Explore Archives
Enrich Your Research
Use the Archives Hub to find unique sources for your research. Search across descriptions of archives from over 1,000 years of history, held at over 300 institutions across the UK.
The Archives Hub is a free service describing physical and digitised collections held in higher education, specialist, local authority, business and other research archives. It is updated every week with new content.
This month's feature: The Archive of Thomas Manning, the First Englishman to Lhasa, Tibet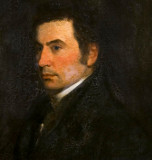 Englishman Thomas Manning entered Tibet in 1811 and was allowed into the presence of the 9th Dalai Lama. A cache of Manning's papers were discovered in 2014 and acquired by the Royal Asiatic Society. (Portrait of Thomas Manning, Copyright: Royal Asiatic Society). Find out more...
NEW!
Take a look at our Archives Hub Gallery


Themed Collections
Archives Hub Themed Collections provide a means to find archival resources with strong visual themes that can be used for research, learning and teaching.