Explore Archives
Enrich Your Research
Use the Archives Hub to find unique sources for your research. Search across descriptions of archives from over 1,000 years of history, held at over 280 institutions across the UK.
The Archives Hub is a free service describing physical and digitised collections held in higher education, specialist, local authority, business and other research archives. It is updated every week with new content.
Join our mailing list to receive Hub news and information!
This month's feature: Federation of Worker Writers and Community Publishers Collection at the TUC Library (London Metropolitan University)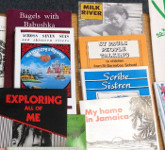 The Federation of Worker Writers and Community Publishers (FWWCP) was a network of community-based writing groups that stretched across the UK and beyond. TUC Librarian, Jeff Howarth, showcases their wide-ranging collection of FWWCP publications. (Photograph of books from the TUC Library's FWWCP publications collection). Find out more...
NEW!
Take a look at our Archives Hub Gallery


Themed Collections
Archives Hub Themed Collections provide a means to find archival resources with strong visual themes that can be used for research, learning and teaching.